Break Glass in case of TAG
What a good looking sculpt!
I painted him with the French tricolour because it was on my mind at the time.
I think I might proxy him as a second Spetsnaz HMG at a pinch.
Some different views: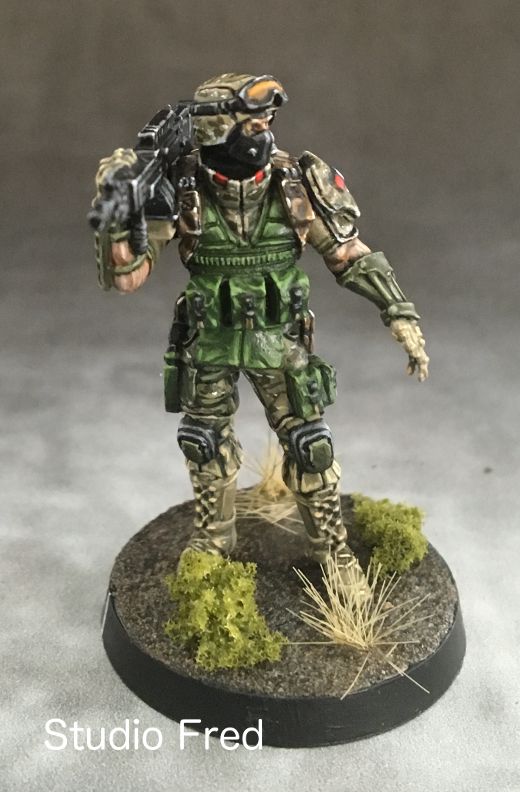 Front view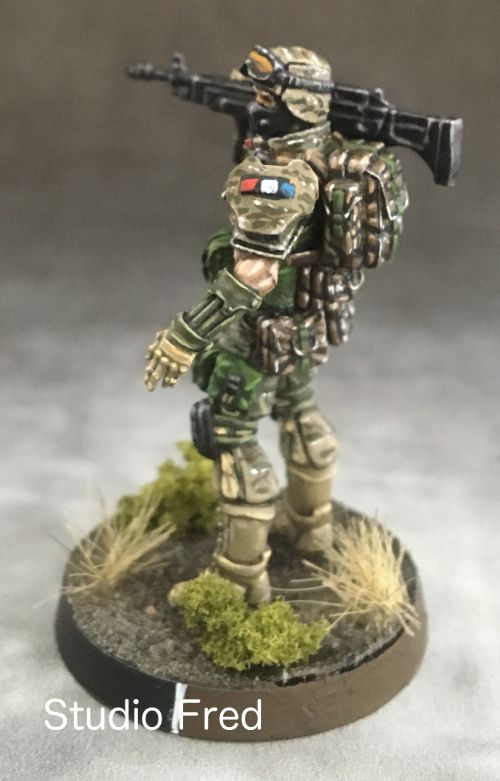 Side View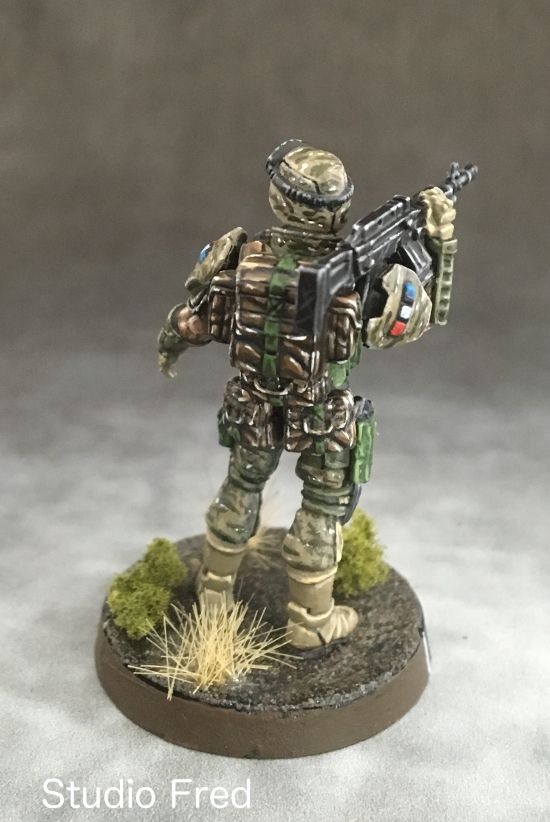 Back View
AP HMG View
Quad view.
I'm very happy with how this figure has turned out. The sculpt is amazing which helps out A LOT with painting.
I kept up with the camouflage look in homage to the original tankhunter and Veteran Kazak I painted way at the beginning of this Ariadna adventure.
Some WIP shots: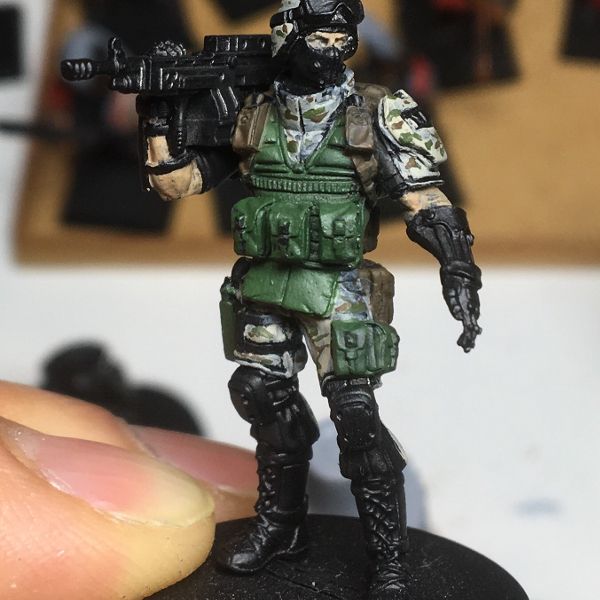 Block painting in progress.
Camouflage
I had kept to the Iraqi Sand base with VMC Camouflage Green and Chocolate Brown dashes for the camouflage. I subsequently washed it with Citadel Athonian Camoshade, then went back and painted in those little white dots and dashes, did my very thinned out black lining of the creases and then worked on the highlighting.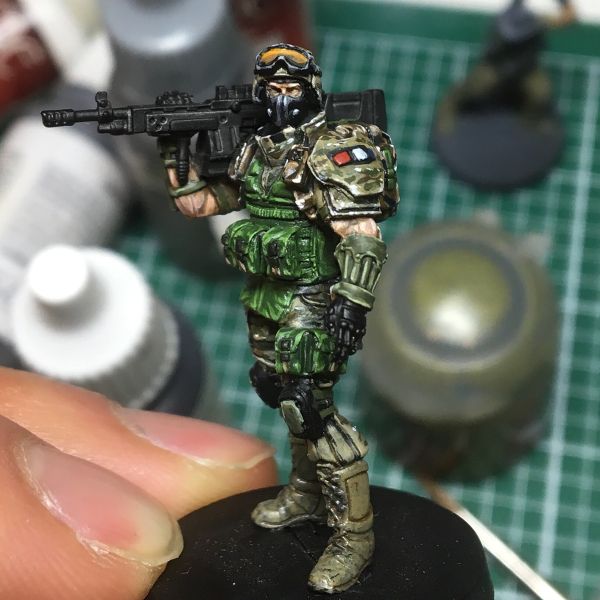 Highlighting cam is a pain.
The highlight process was actually the most involved!
I first did highlights with German Beige Camouflage WW2 with a stippling technique (rather like painting a series of dots and dashes just along the edges of the armour and big folds). It wasn't bright enough so I went over it again- a bit more sparingly- with Ghost Grey. The shoulder pads show it out the best.
The Green Vest
Simply painted with Heavy Green. Washed with Olive Green (lightly!). Then highlighted with Olive Green. Then a final sparing highlight for the highest edges and corners with a 50:50 mix of Olive Green and Sunny Skintone (thanks Angel Giraldez!!! for that formula).
Some Gratuitous Photos in Daylight Bulb Land
Dazzling
Radiant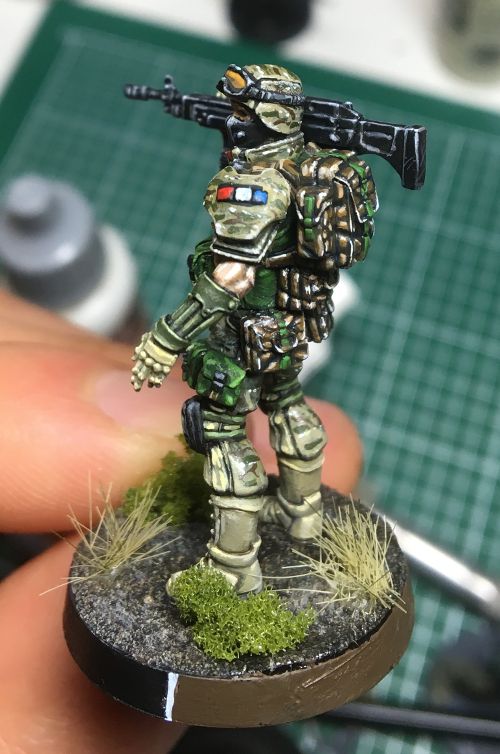 Incandescent
Blue Steel.
Until next time...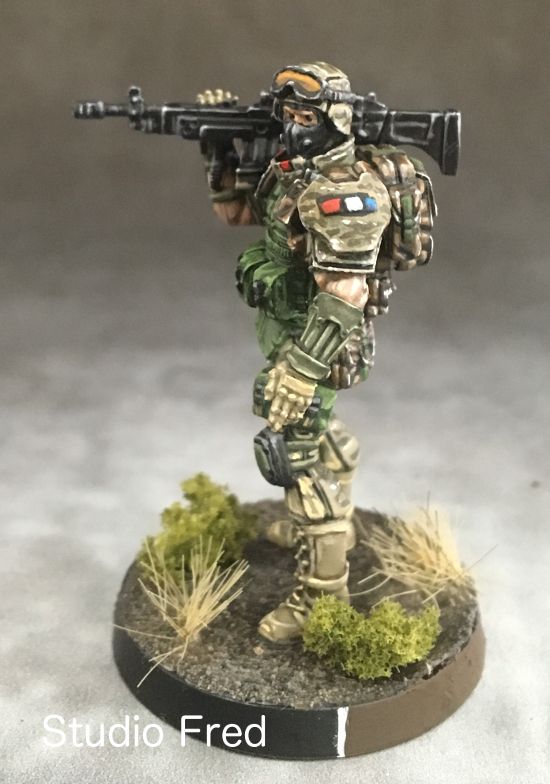 Happy Hobbying