Back in action!
Real Life can really take over your hobby life!
But rest assured- I have remained faithful to Infinity despite dabbling in a few other systems.
Let's get on with the show shall we?
I have been sporadically painting in the few spare hours a week I can get and I was able to get this figure done for a painting competition. Nothing quite like a deadline to force me to paint.
Raaaargh!
I have a profound fear of NMM so I figured I would challenge myself and gave it a try.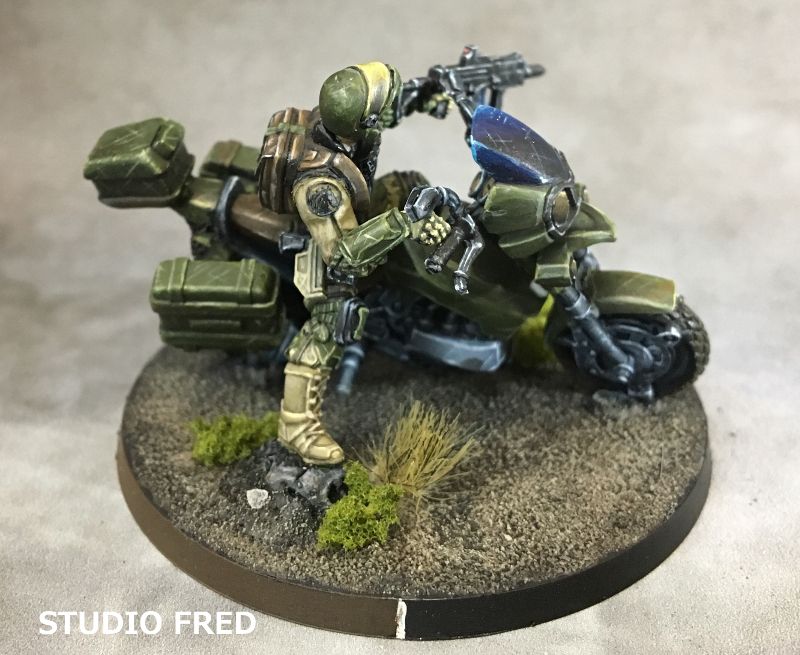 Home made tactical rock to stabilize the model.
I've killed my last brush on this model so there will be a brief hiatus before I charge on with my next project.
USA!
I'm very happy with the result- as you know I aim for just above table top standard usually and this has definitely stepped it up a level.
Formulas
Tedious but necessary.
Pin the models to get some good access!

1. NMM. Airbrush. Black undercoat. Highlight at 45 degrees- Dark Grey. Repeat with a smaller spray circle- Dark Grey mix White 70:30. This is where the light hits the model (like the fuel tank). Final spray circle- White (tiny). Glaze Dark Prussian Blue mixed with a bit of Black. Add more into the recesses. Highlight with White on selected edges that will catch light.
NMM: Airbrushing is harder than it seems!
2. Green Bike Housing. VMC Cam Olive Green. Mix in VGC Heavy Khaki highlight (thin). Final edge highlight with Heavy Khaki. Wash with Citadel Athonian Camo Shade (several) to smooth down transitions and reduce stark highlights. Clean up.
3. Green Bike Saddlebags. Base: VMC Cam Olive Green. Edge highlight- mix base with Vallejo Air Interior Green. Wash Athonian Camoshade. Edge highlight and streaks with Interior Green, then with VGC Dead Flesh.
4. Rider Armour- Green. As per Saddle bags- broader thin highlight with Base mixed with VA Interior Green. The VA Interior Green. Final edge with VGC Dead Flesh. Athonian Camoshade wash kept to minimum.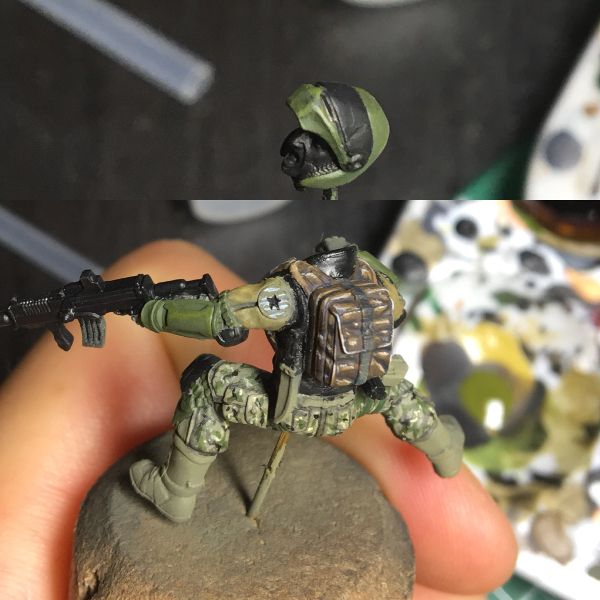 STAGE 1 armour highlights.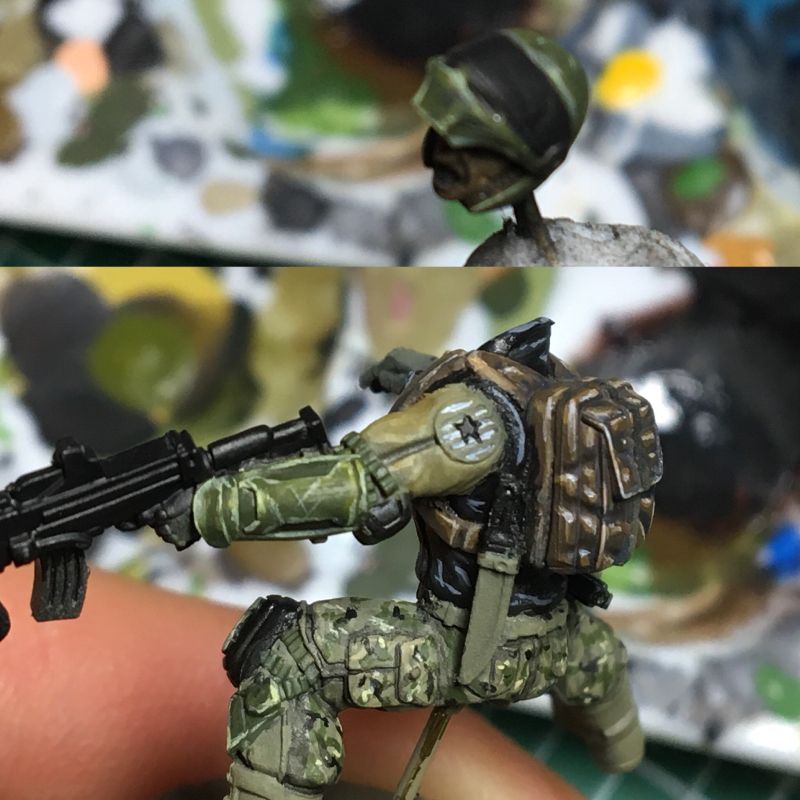 STAGE 2: Wash then Edge plus sratches.
5. Rider Helmet Visor. VMC English Uniform mixed with Black. Gradual build up with English Uniform. Addition of VMC Dark Sand. Glaze of VGC Yellow.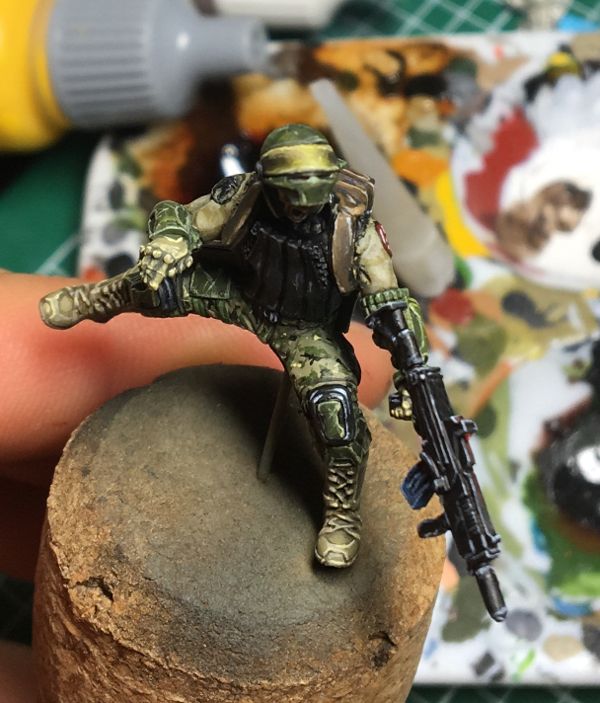 Continually smaller highlights along the 'ridge' of the visor.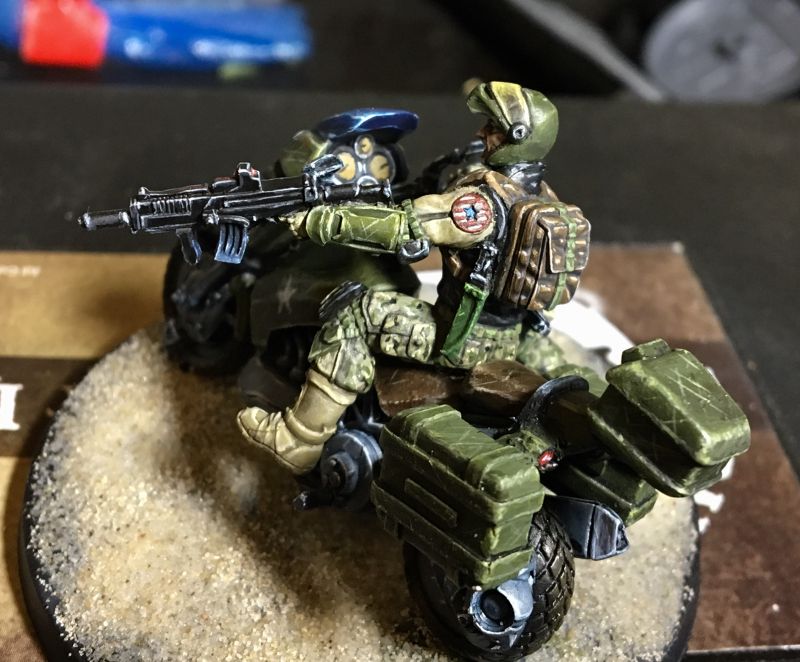 Note the highlights extend from ridge along the edge of the visor.
6. Bassards.
Base VMC Khaki. Wash VMC English Uniform. Thinned out highlight of Khaki. Thinned out highlight of Khaki-Medium Grey mix. Very thin and very fine highlight of Medium Grey.
I don't think I have green quite nailed down as a colour- so I'll experiment a bit more with my next biker.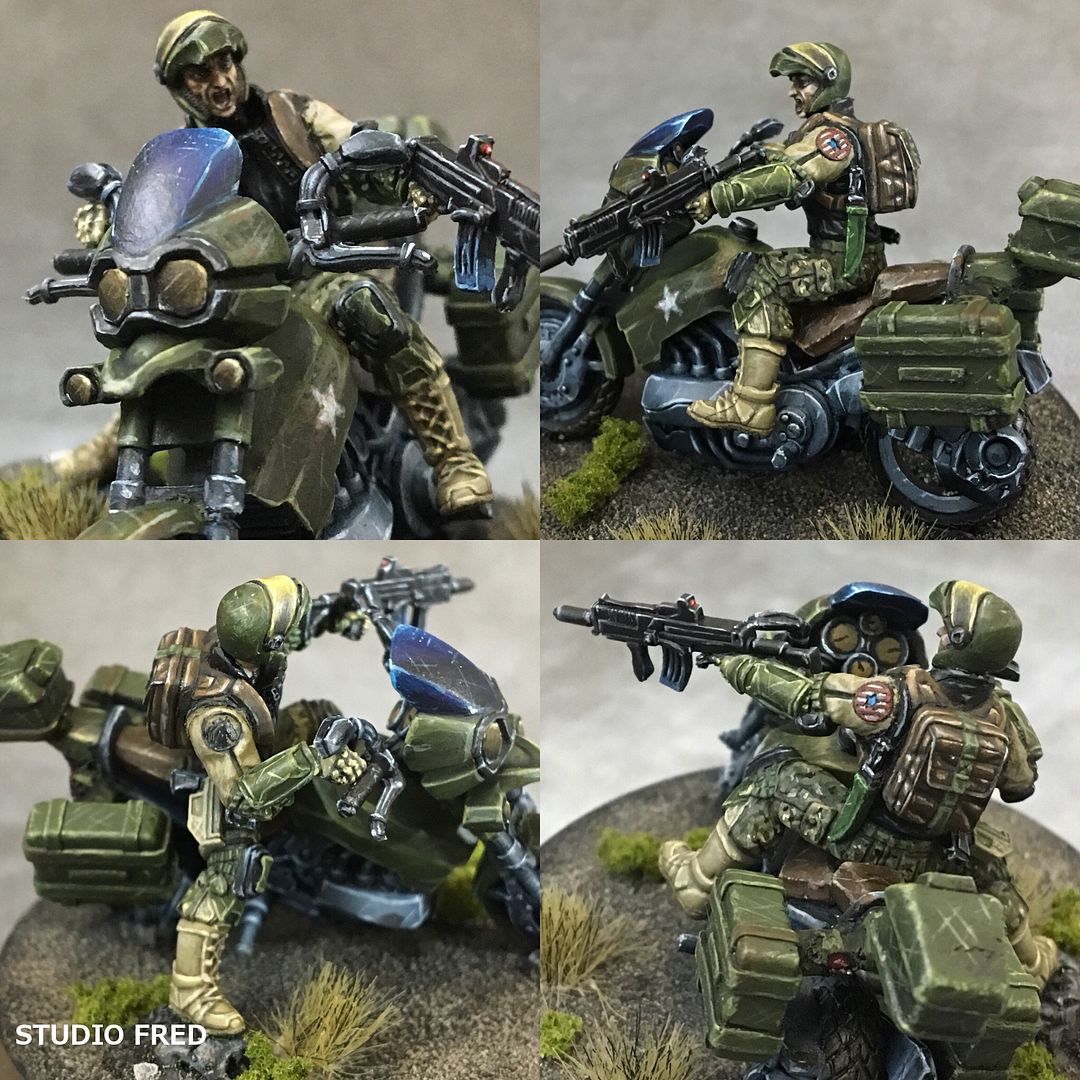 Summary Pic.
Until next time... happy hobbying.