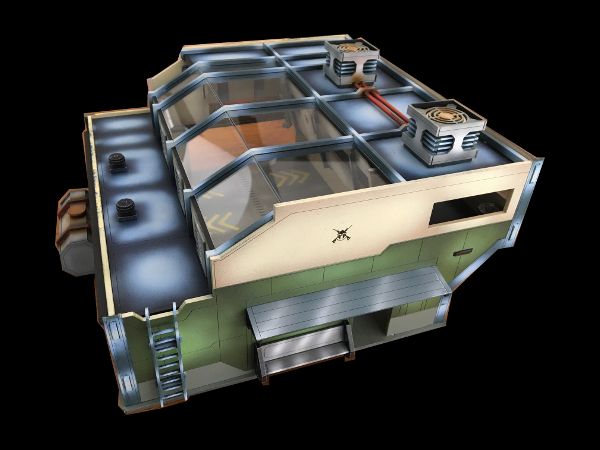 Warsenal Kum Biker Garage. Kum at me!
So I have a confession to make. I have boxes of Warsenal terrain sitting in my cupboard. Shipped across many oceans and costing a pretty penny- they have sat wrapped up and unloved in a cupboard.
That stops now.
Shiny!!!
There was also a hobby competition on the local Infinity page so with killing two birds with one stone, I unwrapped this beast of a kit and got started.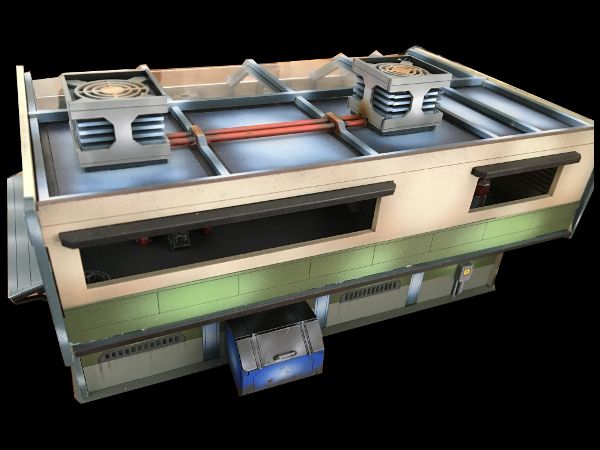 Window grills left off for rifle barrels... yes, I made it to play on.

I was intimidated but also quite excited- I am not as terrified on trying new techniques on terrain- so I was going to experiment with different colours and airburshing styles.
Come inside, don't stand there.
As with most big kits, sub assembly is the key.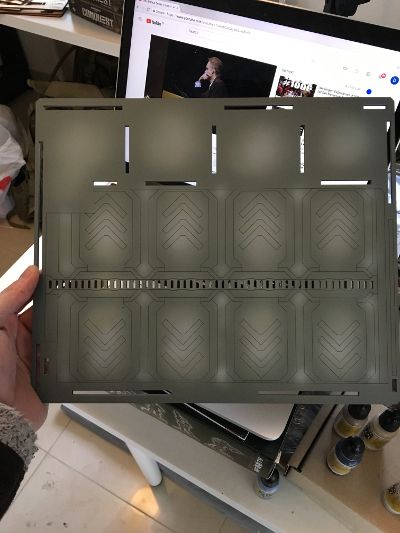 Panel highlights!
It became clear there was going to be a lot of tape I was going to need to use.
Rattle can, taping and panel highlights.
I tried to replicate the beautiful 'studio' Warsenal terrain. Each panel of their buildings is highlighted to make an amazing NMM effect. I wanted to try!
A hiccup!
So there are always hiccups with these things...
So sometimes you just gotta improvise...
Tamiya tape is actually really expensive! I've since been informed by helpful hobbyists that painters tape at the local hardware store is almost as good- and more importantly... cheap!
Sub assemblies... assemble!
So I didn't do this very well. There was a lot of swearing, wheedling, application of brute force and ultimately some breaking of MDF- but I jammed the internals into the frame.
Ooooooh... look at those arrows!
I was quite pleased with how the panel highlights bring out the flooring effects inside the building.
Devil's in the details
With the superstructure completed, I hammered away at the details. I really wanted to try various NMM techniques (the diagonal stripe highlights) with the rationale that if I wrecked it... I'd apply weathering to hide it.
The blue bin didn't work out so well- the contrast between base coat and highlight was way too stark- so I dirtied it up.
Classic brush detailing
Some doodads were too small for the airbrush so I got on with the brush.
Scatter time!
Now I was determined to make the insides of the building pretty.
Smile, you're on camera.
I also added some posters and decals for that homely lived in feel.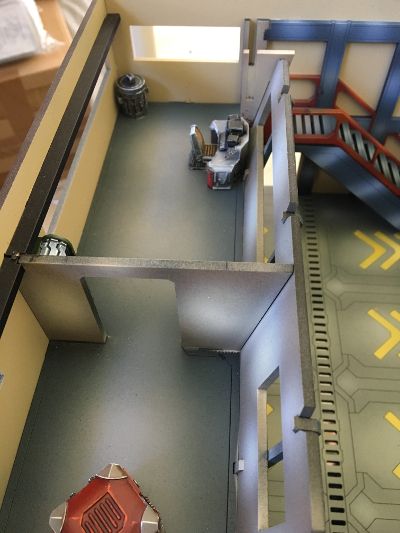 The floor manager gets a computer.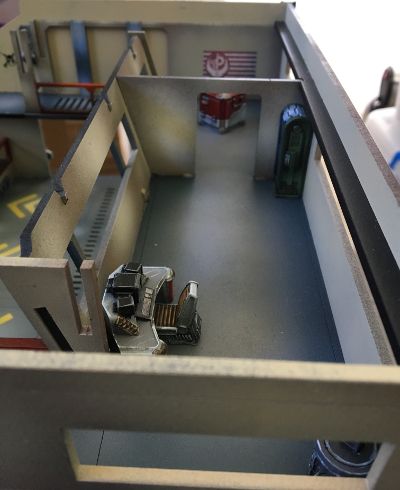 Positioning crates

I deliberately put the crates in areas to give some partial cover to models fighting inside the garage.
Come and take it!
So with one building down... it was time to attack my next piece of mdf forgotten in a cupboard.
No matter the cost!
Until next time. Happy hobbying!